Geberit and the environment
Sustainability squared
Geberit ensures a sustainable quality of life using innovative water management, extensive expertise and a consistent focus on sustainability – across all products, areas and processes. That's what we mean when we talk about "sustainability, squared". Water is getting increasingly scarce all over the world, which is why it's important to handle this key resource carefully and efficiently for the benefit of future generations.
From the beginning, Geberit has recognised its responsibility to create a sustainable quality of life. We keep this promise, for example, by developing a carefully considered environmental strategy, by creating durable products that save water throughout their entire life cycle, and by meeting our commitment to society.
This consistent focus on sustainability is paying off for the environment and society, as well as for customers, partners, employees and shareholders.
Geberit AquaClean shower toilet: A sustainable, quality product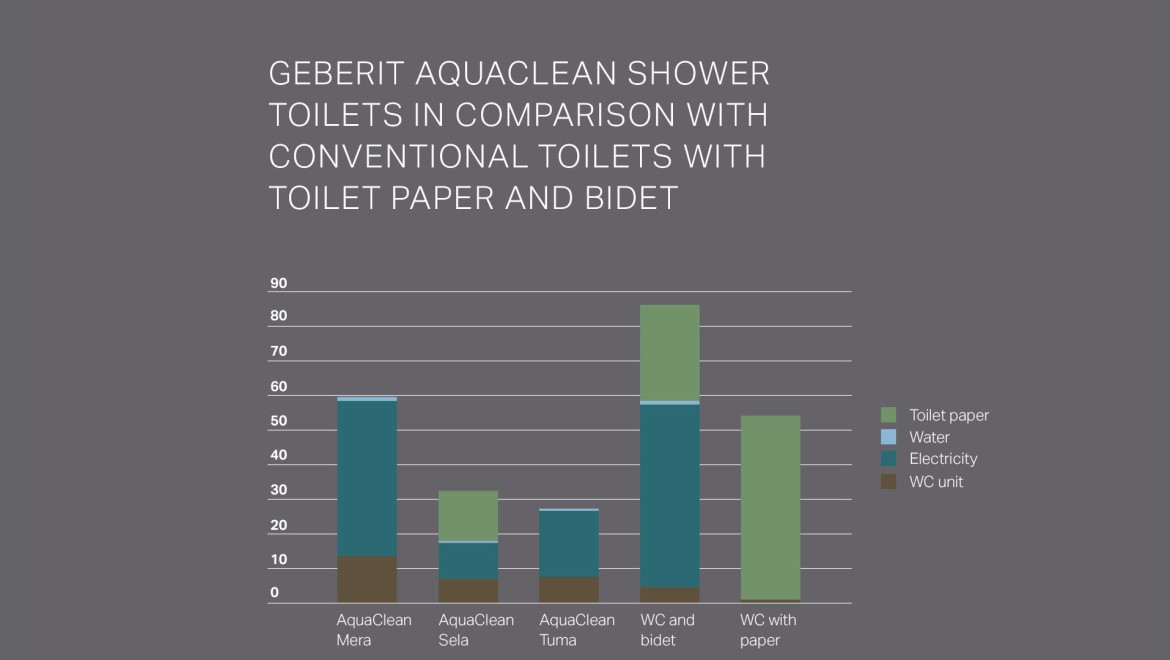 Shower toilet complete solutions from Geberit perform well in life cycle assessments and their consumption of toilet paper is comparable to conventional toilets. Compared to using toilet paper, the additional water used in a shower toilet has a smaller environmental impact.
Nevertheless, the manufacture of toilet paper and the electricity consumption required to heat water are of central importance. Geberit AquaClean products allow users to save more energy by individually adjusting the product settings, thus reducing their environmental impact even further. In standby mode (economy mode), all AquaClean models consume less than 0.5 watts of energy in total. All AquaClean models are equipped with an economy mode and fulfil the European eco-design requirements (ErP directives).